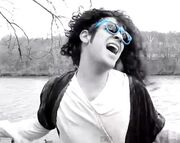 Auto-Tune Jesus is a character played by
Jack Douglass
, appearing in
Take off Your Clothes (Like Scarlett Johansson)
 and 
DUBSTEP SOLVES EVERYTHING 3
.
Appearance 
Edit
Auto-Tune Jesus resembles typical depictions of Jesus Christ; he has long black hair, a white and black robe and a rope belt. Whenever he appears, he is alone and the video appears black and white, with the exception of YGS 10 and his shades in DUBSTEP SOLVES EVERYTHING 3. In his other appearances, he is wearing shutter shades which remain in the black and white style.
Known Appearances
Edit
Take Off Your Clothes (like Scarlett Johansson)
DUBSTEP SOLVES EVERYTHING 3
YGS #10
YGS #45
JACK CITY BICH
During DUBSTEP SOLVES EVERYTHING, the rims of his shades change colour every time the camera switches.
YGS #10 is the only appearance in which he (and everything around him) is in full colour.