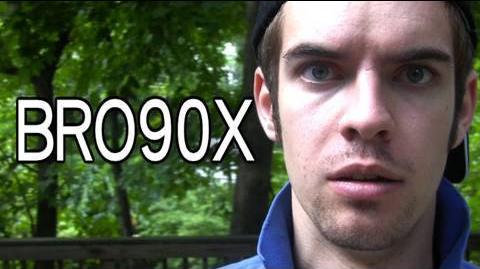 Chad "Broseph" Huntington is a fictional character created by Jack Douglass . His origins were the '"A Frat boy Reviews "Avatar"' video Jack created on December 23rd 2009.
Personality
Edit
He is very aggressive and pushy, as seen over his and Tony Horton's disagreements over the "No Foods Diet" in BRO90X2. He can also be very insulting when it comes to fat people, as seen in BRO90X, when Chad makes remarks such as "I despise looking at fat people" and "That's you, on an obesity scooter, after you gain FAT-HUNDRED pounds!". Overall, Chad is well toned but is a terrible coach, as seen in the BRO90X and BRO90X2 videos. He also seems to have an ex-girlfriend named Summer, and he references this throughout his appearances.
Your Grammar Sucks
Edit
Chad first appeared in Your Grammar Sucks Episode 11, reading out comments, but he quits after a certain comment. He later reappeared in YGS 21, in which each time he laughed or messed up, he would take a shot of vodka. Later, in YGS 31, he apologised for episode 21, calling it "irresponsible", so he will chug a bottle of beer every time he laughed or messed up. In YGS 41, he chugged more bottles of beer, with a friend. In YGS 51, he'd drink drinks with a friend in a very sexual way, making fun of all the comments asking him if he is gay. In YGS 61, the very late Christmas special, he'd chug a glass of EggNog... WITH RUM! In YGS 71, he was joined by youtubers Sean Klitzner, Chris Thompson and Brock Baker. They chugged a beer whenever they messed up, and took a shot when they laughed. In YGS 81, he drank with Brock Baker and Matthias.
Appearances
Edit
A Frat Boy Reviews "Avatar"
BRO90X/BRO90X2
YGS 11
WiggleDix (FREE FLEXOR parody)
YGS 21
YGS 31
YGS 41
YGS 51
YGS 61
YGS 71
YGS 81
Best of Your Grammar Sucks
Best of Your Grammar Sucks 2
Hipster Jesus
Get Pumped with Chad
Portal 2 Walkthrough (Parody)
Manly Yoga (with Chad)
Chad Reviews "Harry Potter"